Integrative Treatment of Traditional Chinese and Western Medicine: Active Small Molecule Drugs Derived from Angelica Sinensis Aid in Treating Brain Cancer and Alzheimer's Disease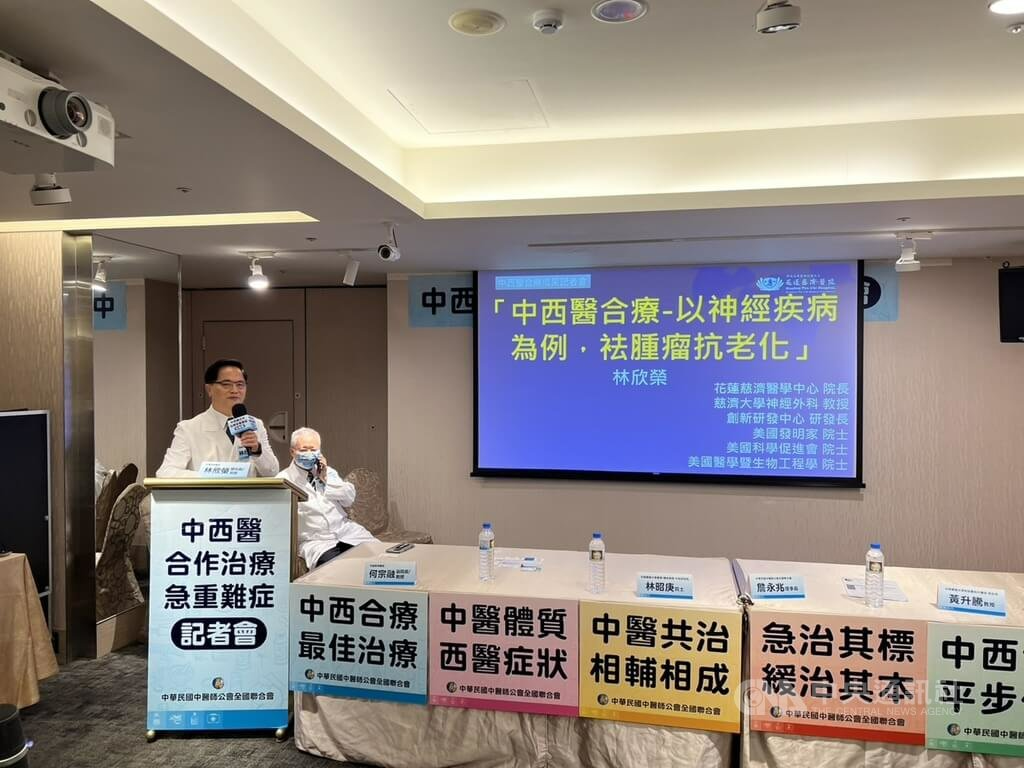 On August 11th, Superintendent Shinn-Zong Lin of Hualien Tzu Chi Hospital delivered a presentation at the Chinese Medicine Practitioners' Association with the theme "Integrative Treatment of Traditional Chinese and Western Medicine – Neurological Disorders as an Example: Tumor Inhibition and Anti-Aging." He discussed the findings of research indicating that the combination of traditional Chinese and Western medicine treatments can help suppress tumor growth or metastasis and enhance survival rates. (Photo by Central News Agency reporter Shen Pei-Yao)
Cancer has ranked as the leading cause of death among Taiwanese for 41 consecutive years. Most treatments have been centered around Western medical procedures such as surgery, chemotherapy, or targeted therapy. However, the Chinese Medicine Practitioners' Association announced today that research has revealed the potential of combined traditional Chinese and Western medicine treatments to inhibit tumor growth or metastasis and enhance survival rates. Collaborative treatment between traditional Chinese and Western medicine is becoming a prominent trend for addressing severe and critical conditions. Chairman of the Chinese Medicine Practitioners' Association, Yong-Zhao Zhan, highlighted in a press conference today that many cancer patients opt for complementary Chinese medicine therapies during their treatments to mitigate the side effects and alleviate suffering.
Yong-Zhao Zhan stated that the integration of traditional Chinese and Western medicine has been practiced for a long time. There are currently four integrated traditional Chinese medicine treatment programs in place. These programs include a trial plan for specific diseases to complement Western medical treatment for inpatients, enhanced care for cancer patients using traditional Chinese medicine, emergency treatment, and strengthened care programs for chronic kidney disease outpatient care. Sheng-Teng Huang, Director of the Chinese Medicine Department at China Medical University Hospital, presented clinical research findings that indicate that incorporating Chinese medicine as a complementary treatment can improve survival rates for non-small cell lung cancer and reduce the incidence of liver cancer in diabetes patients.
Dr. Shinn-Zong Lin, the Superintendent, delivered a presentation on the topic "Integrative Treatment of Traditional Chinese and Western Medicine – Neurological Disorders as an Example: Tumor Elimination and Anti-Aging." He shared insights about leading a team, which included Vice Research and Development Director Horng-Jyh Harn from Tzu Chi Innovation Research Center and Distinguished Professor Tzyy-Wen Chiou from National Donghua University, in discovering the therapeutic potential of an extract from Angelica Sinensis in cancer treatment. They identified the active small molecule compound BP and developed targeted small molecule anticancer drugs for the treatment of malignant brain gliomas. Furthermore, they combined BP with CPPSA copolymer to create the Cerebraca® wafer, a sustained-release wafer, which delivers the targeted small molecule drug BP to brain tumor lesions. This innovative approach has gained patents in countries including the United States, Mainland China, Japan, the European Union, and Taiwan.
Superintendent Shinn-Zong Lin indicated that the small molecule compound BP possesses multiple targeting properties for both anticancer and Alzheimer's disease treatment. By regulating the central gene AMPK, it maintains the body's balance, aligning with the concept of traditional Chinese medicine's multi-target therapy. This approach seeks to achieve the harmony of "yin and yang" within the body, as well as the integration of human and nature, embodying the principles of dispelling pathogenic factors while supporting vital energy. These findings and viewpoints have been shared in a publication in the journal Nature.
The development of Cerebraca® Wafer is currently authorized by Everfront Biotech. Phase IIa of the clinical trial was completed in October 2022, and the Clinical Study Report process is underway. Remarkable efficacy was demonstrated during Phase I clinical trials, with no adverse reactions related to the investigational drug observed. The median (or mean) cumulative survival of recurrent malignant brain cancer patients has reached 25-26 months, a significant improvement compared to existing strategies such as Gliadel® wafer (6.4 months), Temodal capsules (5.8 months), or Avastin injections (9.4 months).
Under the approvals of Taiwan's Ministry of Health and Welfare and the Human Research Ethics Committee of Hualien Tzu Chi Hospital, Cerebraca® Wafer underwent compassionate therapy trials. For patients with malignant brain cancer that cannot be surgically removed and are located near the cervical spine, implantation of the Cerebraca® Wafer through a surgical incision led to tumor reduction. Moreover, when combined with Cerebraca® Wafer, treatment involving cytokine-induced killer (CIK) cells achieved a non-relapse survival period exceeding 40 months.
Cerebraca® Wafer has demonstrated exceptional clinical outcomes, and Everfront Biotech is actively seeking collaborative partners to jointly develop this new drug, aiming to assist a greater number of malignant brain cancer patients.
Source:
1. https://www.cna.com.tw/news/ahel/202308110151.aspx
Introduction to Everfront Biotech Co., Ltd:
Everfront Biotech Inc. was founded in 2010, with a focus on research and development of new drugs, specifically the screening and further development of potential small molecules for clinical study. The company's team is responsible for all aspects of product development, from front-end potential product development to pre-clinical research, chemistry manufacturing and controls (CMC), clinical trial submissions, and clinical trial planning and execution. To date, the Everfront Biotech team has successfully applied three clinical trials: Cerebraca® Wafer (for malignant brain tumors), HK-001 (for amyotrophic lateral sclerosis), and EF-009 (for pancreatic cancer), which have been approved for IND applications in both the United States and Taiwan.
Everfront Biotech's new drug development is in line with national policies, and the Cerebraca® Wafer and HK-001 products were granted the certifications of biotech and new drug in 2016. The company has received the government subsidies in three science and technology projects as of 2022 from the Ministry of Economic Affairs.