Cerebraca® Wafer​ | Brain Tumor Treatment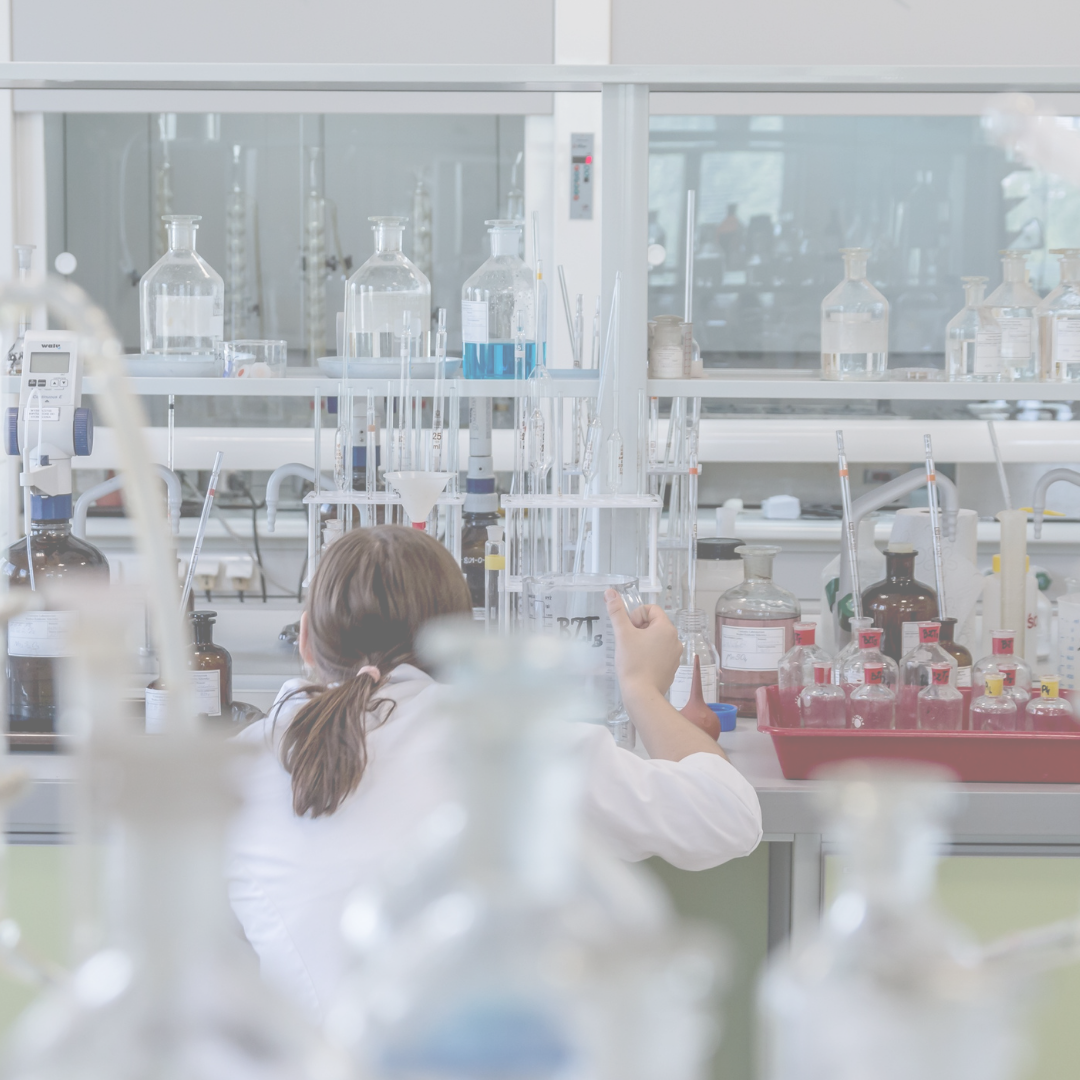 Cerebraca®
Wafer
Brain Tumor Treatment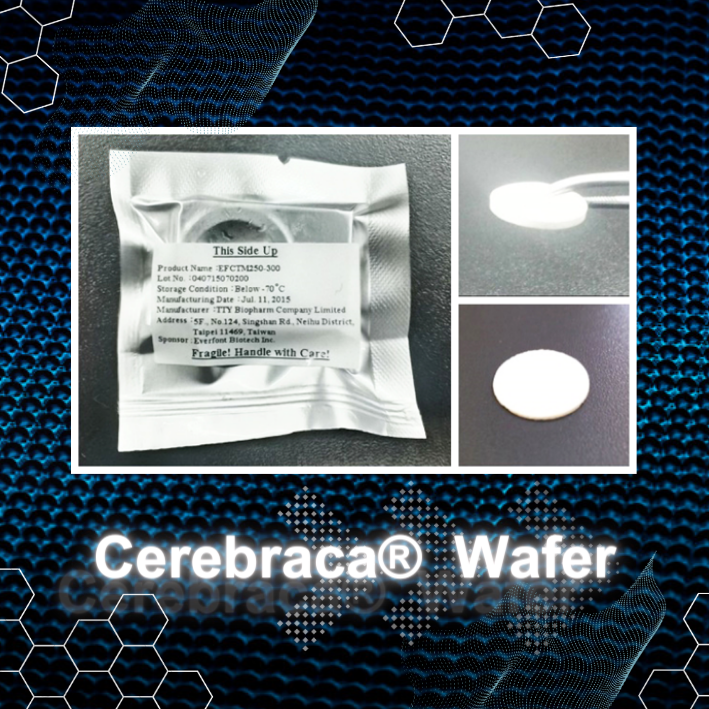 Combining the small molecule active pharmaceutical ingredient EF-API-001 and the biodegradable polymer, Cerebraca® Wafer is capable of potent tumor cell killing, immune activation, and reducing chemotherapeutic drug resistance.
Cerebraca® Wafer

is a therapeutic drug wafer that can be used to treat highly malignant glioblastoma (malignant brain cancer). It can be directly implanted into the brain and slowly releases drugs at a high concentration, high penetration, and long duration for about 1 month, exerting a multi-target effect that helps to treat cancer and make cancer cells more susceptible to chemotherapy or immune cell killing.

Glioblastoma multiforme (GBM) is a highly malignant primary brain tumor that can grow up to 16 times its original size within a month. It has a high rate of recurrence after surgical resection, and there are currently no effective treatment options available.

EF-API-001,

the small molecule active pharmarceutical ingredient  in

Cerebraca® Wafer

, has the following characteristics:

Targeting Axl-1 receptor tyrosine kinase: effectively inhibits the growth and metastasis of brain tumor stem cells.
Inhibiting the PD-L1 immune checkpoint: reduces the immune suppressive nature of the tumor microenvironment, thus preserving the activity of immune cells to kill tumor cells. 
Inhibition of MGMT DNA repair enzyme: overcomes resistance to Temozolomide (chemotherapy drug) and enables cancer cells to be killed again by chemotherapy.

Cerebraca® Wafer

, its small molecule active ingredient and biodegradable polymer are all manufactured by internationally renowned PIC/S GMP pharmaceutical companies in Taiwan to ensure high quality and reliable aseptic manufacturing processes.
A Phase I/IIa Study of Cerebraca Wafer Plus Adjuvant Temozolomide (TMZ) in Patients With Recurrent High Grade Glioma
Phaes I

In August 2020, the Taiwan Phase I clinical trial was completed

No adverse events related to the investigational drug were found throughout the trial

In Cohort IV, which received high dosage: 

the median overall survival (OS) has reached 26.2 months (updated on July 2022), compared to existing strategies such as Gliadel® wafer (6.4 months), Temodar (5.8 months), or Avastin (9.4 months)

The progression-free survival (PFS) rate at 6 months was 100%.

Cancers 2022, 14(4), 1051; https://doi.org/10.3390/cancers14041051
Phase IIa

In October 2022, completed enrollment for the Taiwan phase IIa clinical trial

CSR will be finalized by end of December.
Cerebraca® Wafer is More Effective in Overcome Cancer Stem Cells in Recurrent GBM
As below Table shows, seven out of eight primary glioma lines acquired in this clinical trial revealed high expression of the cancer stem cell markers, CD133 and SOX2, suggesting that tumor recurrence presents high cancer stem cell generation.

The IC50 of BCNU (active ingredient in Gliadel Wafer) in T1, a non-tumor stem cell line, was approximately 1200 µM. We further showed that GBM cells with high stem cell marker expression had higher IC50 when treated with BCNU (≥1600 µM). This result possibly correlates to the limited therapeutic effects of the BCNUloaded Gliadel wafer.
However, the IC50 of BP (EF-API-001) in patient-derived primary glioma cell lines was lower than that of BCNU, indicating that the API of the Cerebraca wafer was more efficient than that of the Gliadel wafer. We further demonstrated that the IC50 of BP was around four times lower than that of the BCNU.

Additionally, the difference in drug loading between the Cerebraca and Gliadel wafers was almost 10-fold (75 vs. 7.7 mg per wafer), which makes the cancer cell killing possible

For more detailed information, please refer to Cancers 2022, 14(4), 1051; https://doi.org/10.3390/cancers14041051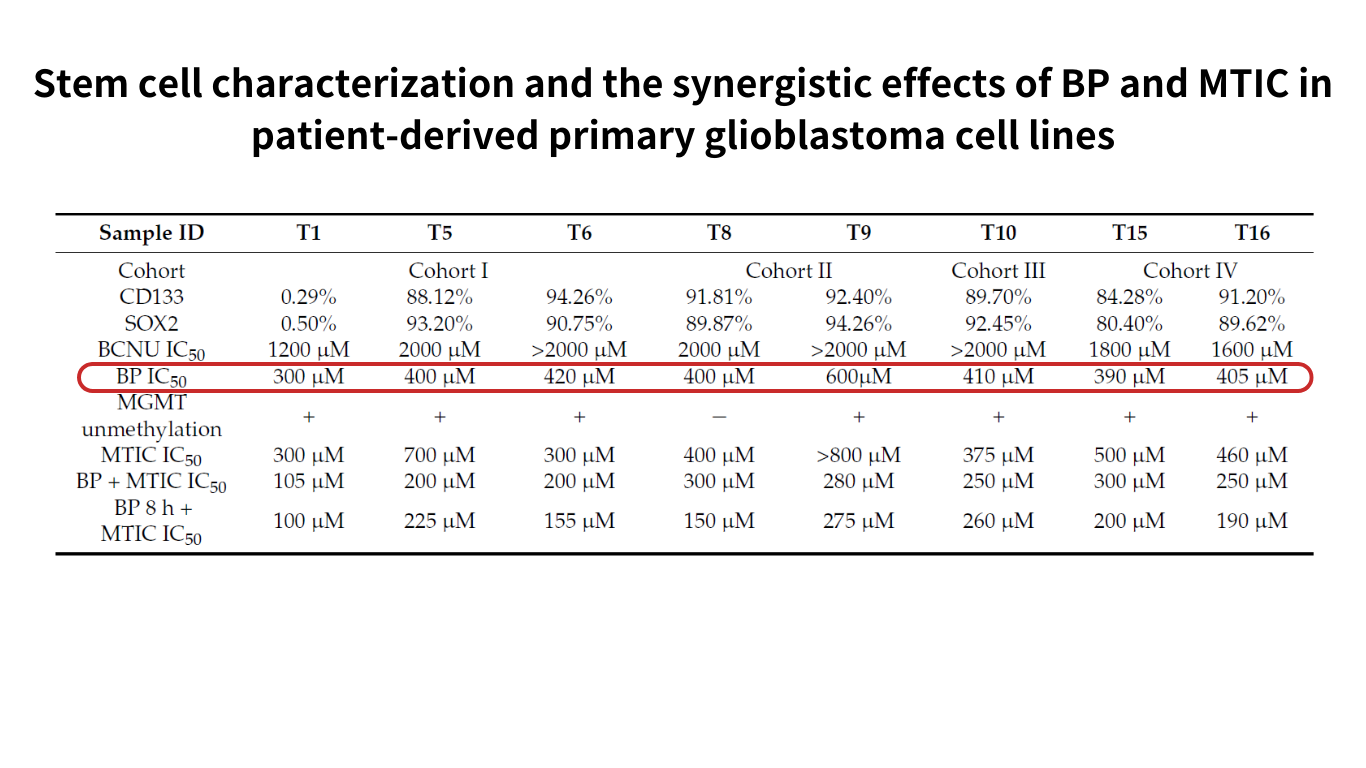 Curing Rare Cancers
Rare Cancers are a subset of orphan diseases

that affect so few people that trying to cure them makes little economic sense without public incentives and special regulatory benefits.

Our mission is to develop orphan drugs to treat rare cancers

chosen for their low probability of survival due to the lack of effective treatments, the presence of few competitors offering objectively inferior products based on key medical metrics, and the possibility of rapidly gaining market share via licensing agreements with global pharma partners.
Glioblastoma (GBM)
The most common and lethal primary brain tumor Glioblastoma (GBM) is highly resistant to conventional radiotherapy and chemotherapy and cannot be effectively controlled by surgical resection. As recurrence is  inevitable and progresses rapidly, GBM is considered essentially incurable. Survival rate is low and median life expectancy is 6 months after relapse.

Glioblastoma (GBM) is the most common and lethal primary brain tumor that is highly resistant to conventional radiotherapy and chemotherapy, which cannot be effectively controlled by surgical resection. Recurrence is  inevitable and progresses rapidly, rendering GBM essentially incurable. Survival rate is low, median is half a year after relapse.  

A great challenge in current therapies lies in delivering chemotherapeutic agents effectively to the tumor location in the presence of blood-brain barrier (BBB) and blood-brain tumor barrier (BBTB), a hurdle that is reducing the efficacy of anti-tumor drugs in GBM therapy.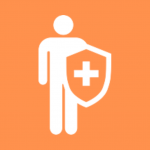 Harness the Power of the Human Immune System
We seeks to identify and develop active compounds with the ability to amplify the body's natural defense across many metrics, both by fortifying the patients' immune system and weakening the disease to increase its vulnerability to medical treatments.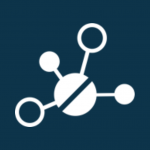 Use Small Molecules Drugs as Our Key Therapeutics
Given their relatively low molecular weight, simple chemical structures, more predictable pharmacokinetics and pharmacodynamics,  small molecule drugs not only have superior safety profiles, but they can pass through cell membranes to reach intracellular targets and be formulated in many forms.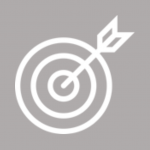 Improving Efficacy with Targeted Drug Delivery
We use targeted drug delivery platforms to improve the efficacy of our products with options like slow-released local delivery system, systemic drug delivery system, dripping pill formulation, dermal application formulation and injectable formulation.
Brain tumor (glioma and meningioma)
North America, Europe, Asia, China, Japan, others
US market worth around USD 17.14 billion
Patents on much less effective Gliadel® wafer and TMZ have expired.
Best-in-class surgical combination therapy capturing a 15% market share from both the chemotherapy and the immunotherapy market.
How Does Cerebraca® Wafer Work?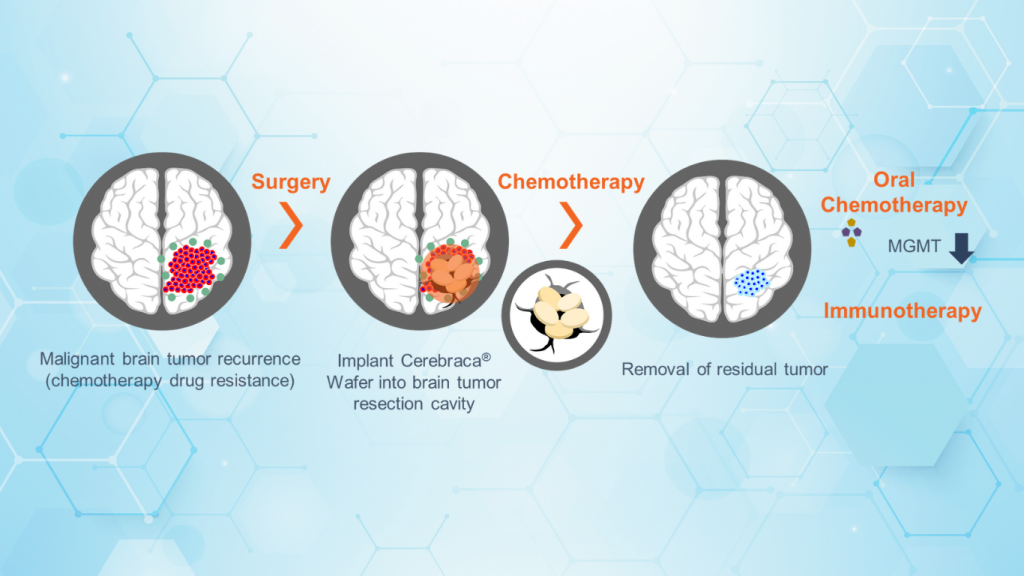 After surgical resection of recurrent brain tumors, Cerebraca® Wafer (implanted tablets) will be implanted during the operation. The tablets will slowly decompose and release small-molecule targeted drugs directly into the tumor, so sufficient drug concentration can be achieved locally in the lesion,  killing cancer cells that cannot be completely removed by surgery without damaging other tissues.
Why Cerebraca® Wafer Does It Better on Curing GBM?
■ US FDA Orphan Drug Certification
The protection and preferential measures are granted under the Orphan Drug Development Act.
■ Providing Longer Life Expectancy
Phase I clinical trial results shows median overall survival of patients who received the highest dose exceeded 2 years, and one patient still lives a normal life 3 years in the treatment.
No drug-related adverse reactions recorded during clinical trials – no brain swelling, epilepsy and wound-healing effects.
After implantation, the tablets will slowly decompose and release small-molecule targeted drugs directly into the tumor, so that sufficient drug concentration can be achieved locally in the lesion.
■ Multiple Targeting Effects
Small-molecule targeted drugs in-situ weakens the cancer, makes it highly vulnerable, less resistant, and easy to kill by the combination of additional therapies.
■ Improve Immune Activity
Inhibiting tumor cell PD-L1, and activating immune system to kill tumor, thus reverses the immunosuppressive environment typically associated with traditional therapy.
How Cerebraca® Wafer Compares to Conventional Treatments of Recurrent GBM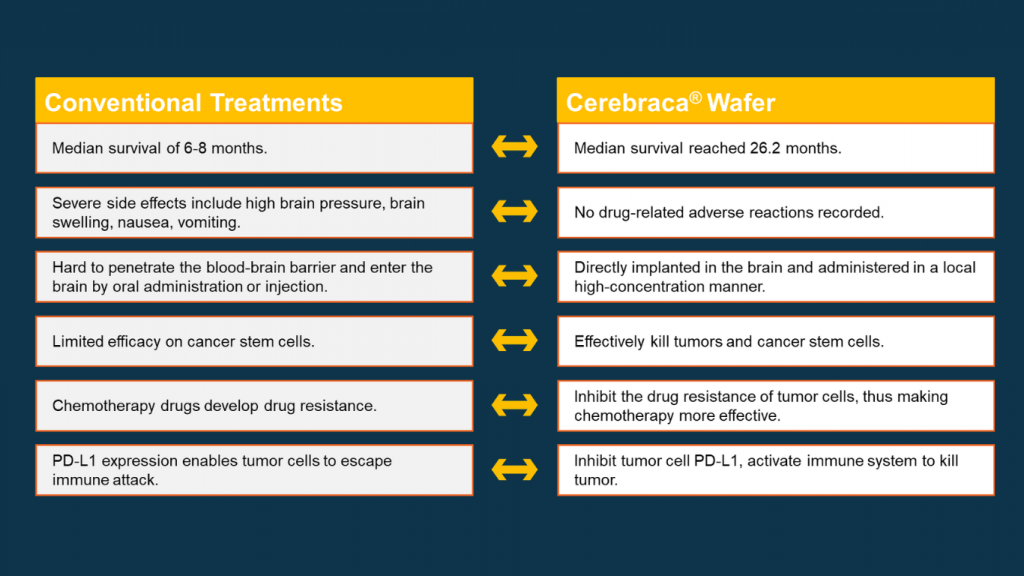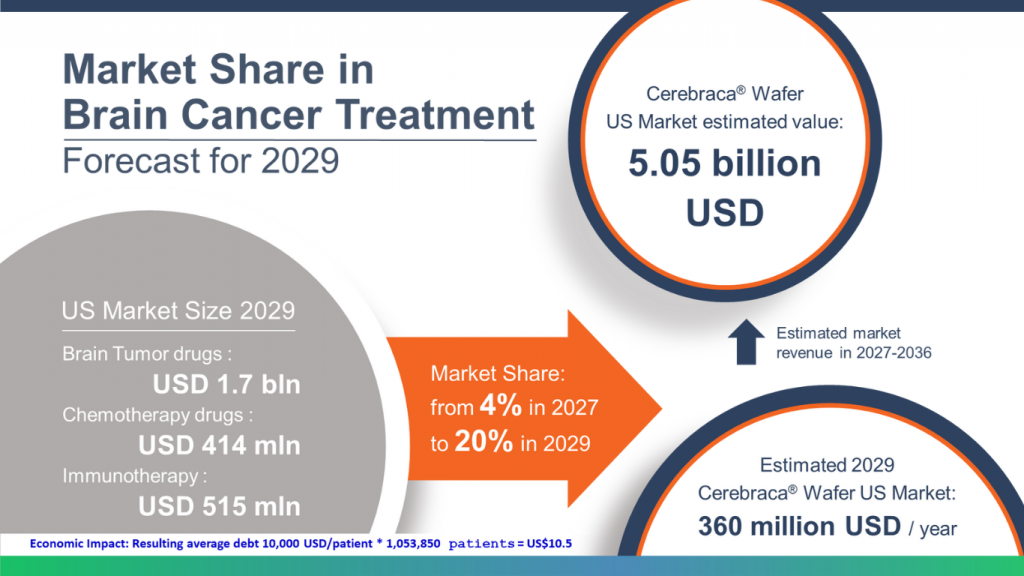 Active Pharmaceutical Ingredient (API): EF-API-001
Small molecule

Low toxicity: Rat LD50 = 1,850 mg/kg

PIC/S GMP product
EF-API-001 is a small molecule, discovered from natural product researches and synthesized and manufactured through strict GMP processes and controls. EF-API-001 revealed excellent safety profiles and is an exciting discovery of multiple disease treatment capabilities.
KEY anti-cancer effects of EF-API-001: inhibiting tumor growth, inhibiting stemness, inhibiting chemo drug resistance, and immune response stimulation.

FDA approved, bio-degradable material

Excellent bio-compatibility

PIC/S GMP product
The Treatment of EF-API-001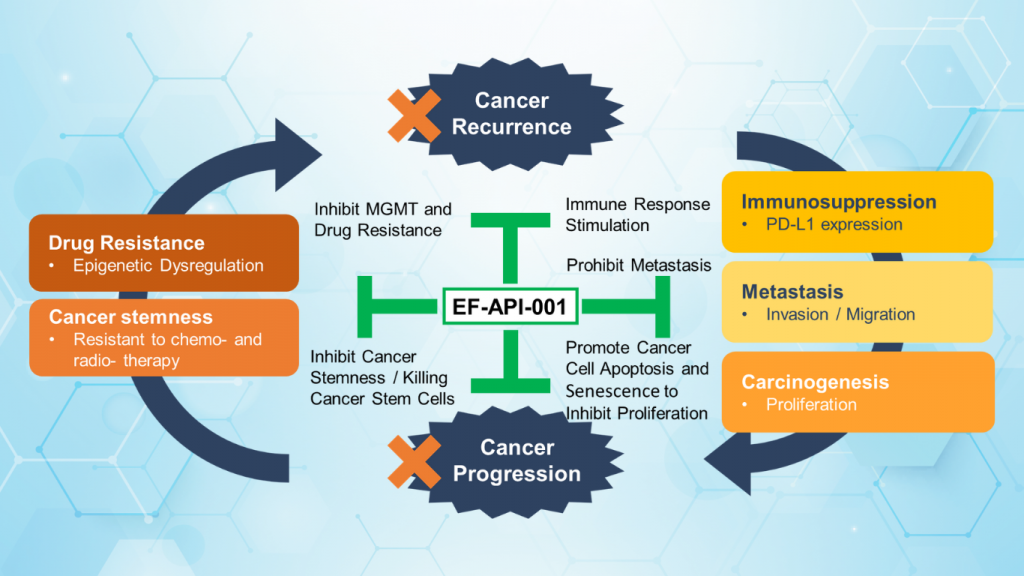 The Results of Interstitial wafers Cerebraca in Recurrent Gliomas by Prof. Shinn-Zong Lin in ACNS
Summary
Cerebraca® Wafer, an investigational new drug developed by Everfront Biotech Inc, has shown excellent safety and efficacy in its Phase I clinical trial for the treatment of recurrent malignant brain tumors.

The trial involved 12 patients, and those who received the highest dose had an average survival time of more than 19 months.

Cerebraca® Wafer is designed to clear residual malignant brain tumor cells after surgery and reduce chemoresistance with the help of TMZ.

The current standard treatments for recurrent malignant brain tumors have limited effectiveness, and there is an urgent need for new therapies.
2014 National Innovation Award*
2015 Orphan drug Designation Granted by USFDA
2016 Qualified by the qualified for governmental incentives under Biotech and New Pharmaceutical Development Act in Taiwan
2016 IND application approved by USFDA and TFDA
2019 Taipei Biotech Awards – Innovation Award*
2019 Congress of Neurological Surgeons – selected late-breaking presentation with the highest score
2019 National Innovation Award – Excelsior Award*
2021 National Innovation Award – Excelsior Award*
2022 National Innovation Award – Clinical innovation*
2023 NBRP DEMODAY – Investor's Choice Award
*Taiwan Government Awarded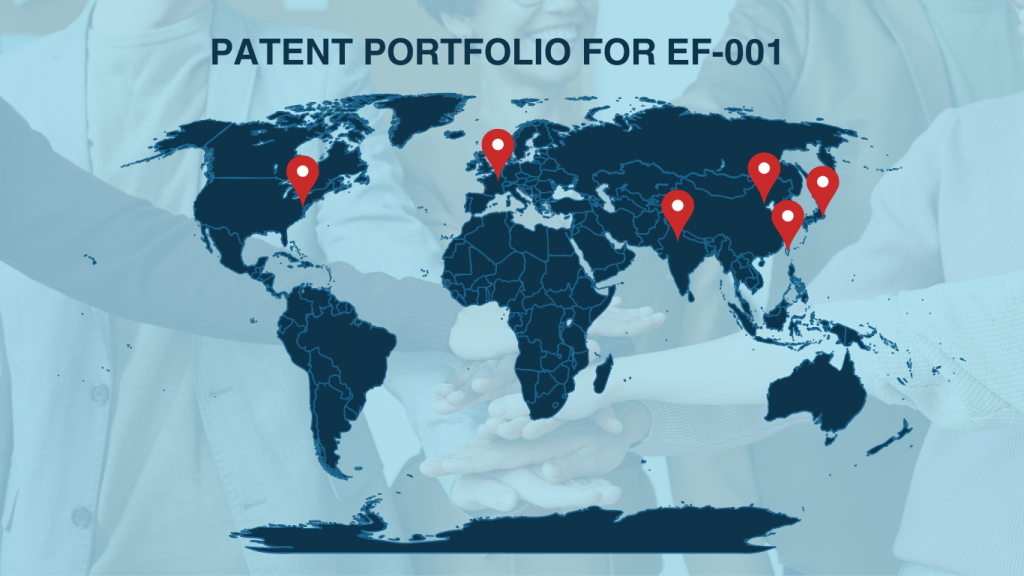 Partnering And Collaboration
EFB is looking for the opportunity to cooperate with international pharmaceutical companies or venture capitals. 
Please mail us on efbiotech@efbiotech.com