Collaboration between Lotus Pharma, Tzu Chi Hospital and Everfront Biotech for Clinical Trials of New Drugs for Glioblastoma Multiforme in June

Lotus (1795), Hualien Tzu Chi Hospital, and Everfront Biotech Inc. signed a memorandum of understanding today to jointly develop a targeted new drug for glioblastoma multiforme and begin clinical trials in June.
On May 22, 2017, Lotus (1795), Hualien Tzu Chi Hospital, and Everfront Biotech Inc. signed a memorandum of understanding for joint development and cooperation to develop a targeted new drug for glioblastoma multiforme, which will officially commence clinical trials in June.
The three parties will combine the targeted new drug Cerebraca® Wafer and Lotus's brain cancer drug Temozolomide to develop a clinical trial for the treatment of Glioblastoma Multiformis, a type of malignant glioma.
Malignant tumors continue to rank first among the top ten causes of death in Taiwan. According to reports from the American Cancer Society (ACS) and the Central Brain Tumor Registry (CBTR), approximately 20,000 new brain tumor patients are diagnosed each year, and there are about 600 new cases of glioblastoma multiforme in Taiwan each year. Based on recent statistics in Taiwan, about half of malignant brain tumors are Glioblastoma.
Glioblastoma Multiformis is a highly malignant brain tumor that can grow up to 16 times its size within a month. The tumor is difficult to eradicate and tends to recur after surgery, with a high relapse rate. Once diagnosed, it is usually in the advanced stages. Patients with stage IV Glioblastoma have an average survival time of only 12 to 18 months, and a 5-year survival rate of only 3.4%. Current medical treatments for malignant brain tumors include surgical treatment, radiation therapy, and chemotherapy with Temozolomide, but the effeciacy is limited.
Everfront Biotech Inc. transferred critical technology from Hualien Tzu Chi Hospital and National Dong Hwa University five years ago, and developed Cerebraca® Wafer, a targeted anti-cancer drug for the treatment of malignant gliomas in the brain. This drug slowly releases and diffuses into the surrounding brain tissue, removing residual tumor cells left after surgery. By inhibiting the DNA repair gene MGMT, it can prevent malignant cells that have become resistant to Temozolomide from becoming resistant again, allowing Temozolomide to kill the cancer cells. Cerebraca wafer has obtained patents in Taiwan, China, the United States, Japan, and the European Union.
Loyus's chemotherapy drug Temozolomide has been on the market in Taiwan for more than 5 years and is also the company's first globally marketed anti-cancer drug. This cooperation with Everfront Biotech's new drug development team and Hualien Tzu Chi Hospital is expected to effectively reduce the resistance of Temozolomide.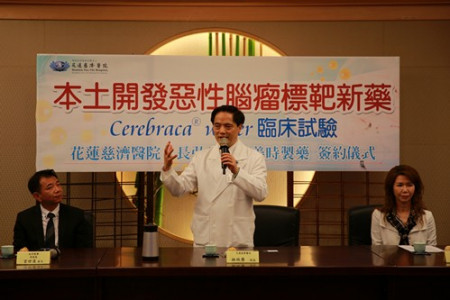 Superintendent Shinn-Zong Lin (middle) shares the discovery of a new targeted therapy for malignant brain tumors.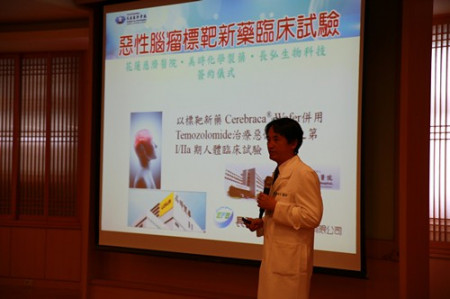 Vice R&D Director Horng-Jyh Harn of the Innovation and Development Center shares the progress of clinical trials for the new targeted therapy drug for malignant brain tumors.