Everfront Participate BIO ASIA-Taiwan 2023 Exihibition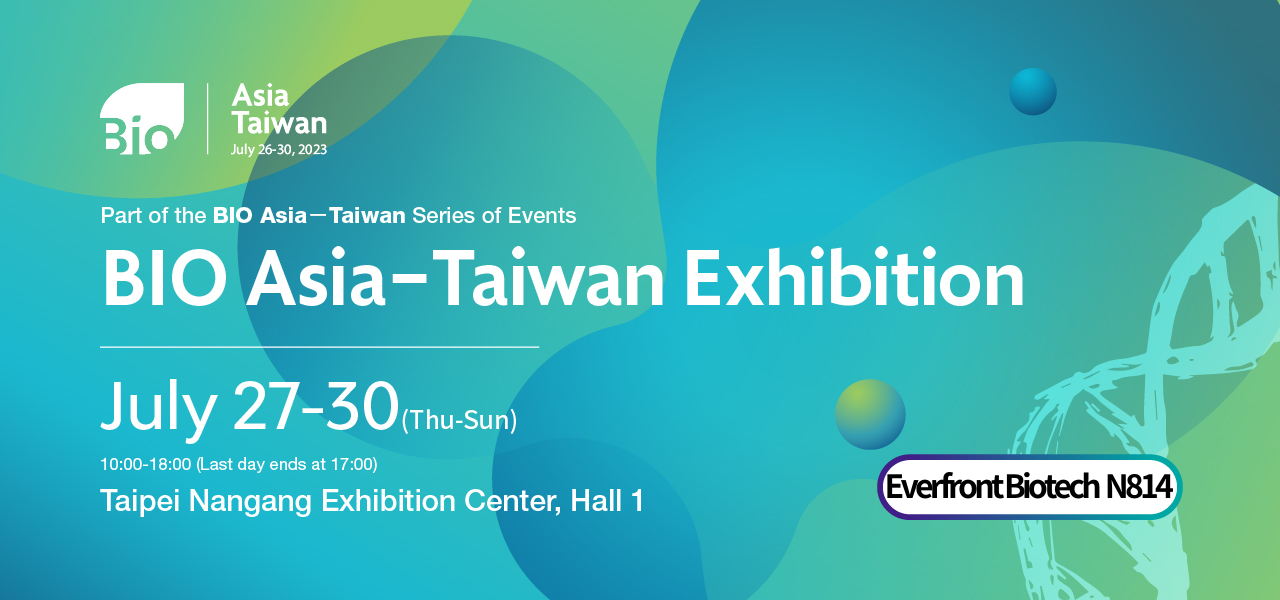 Everfront Biotech will be participating in BIO ASIA-Taiwan 2023, the largest biotechnology event in Asia, from July 27th to July 30th, 2023. This is an unmissable international biotech extravaganza, and we welcome your visit to our booth.
【 BIO Asia-Taiwan Exhibition, part of the BIO Asia-Taiwan conference series 】
This year's BIO Asia-Taiwan Exhibition has overcome the challenges posed by the pandemic and has brought together over 50 listed companies, 622 leading firms from 16 countries, and showcased 1,471 booths. The event has attracted more than 110,000 visitors from 47 countries, both physically and online.
The theme of this year's BIO Asia-Taiwan Exhibition is "Embracing Asian Dynamics," highlighting the rapid economic growth, vibrant and innovative biomedical ecosystem, and the interconnected global biotech industry, presenting a myriad of exciting opportunities. BIO Asia-Taiwan 2023 Onsite + Online focuses on the latest advancements in therapeutics, diagnostics, medical devices, and services. The event takes place in Taiwan, a country renowned globally for its successful pandemic response and for cultivating a highly skilled workforce in innovative manufacturing, closely aligning with the international biomedicine community.
The event will feature over 100 renowned speakers who will deliver speeches and engage in discussions on forward-looking and pivotal industry topics. Additionally, it provides a broad online network for connecting with high-quality companies and solution providers.
Source: https://news.gbimonthly.com/tw/activity/show.php?num=985
Visit Information:
Date: 2023/7/27(Thu) – 7/30(Sun)
Time: 10:00 AM ~ 6:00 PM (Last day closes at 5:00 PM)
Taipei Nangang Exhibition Center, Hall 1, 4F
Add: 4F., No.1, Jingmao 2nd Rd., Nangang District, Taipei City 11568, Taiwan  Map
Visiting Eligibility Application
STEP 1. Login / New Member Registration
STEP 2. Please confirm personal basic information to complete the registration procedure
STEP 3. Scan your [Admission QRCode] at the exhibition entrance.
More information: https://expo.bioasiataiwan.com/en/visitor.asp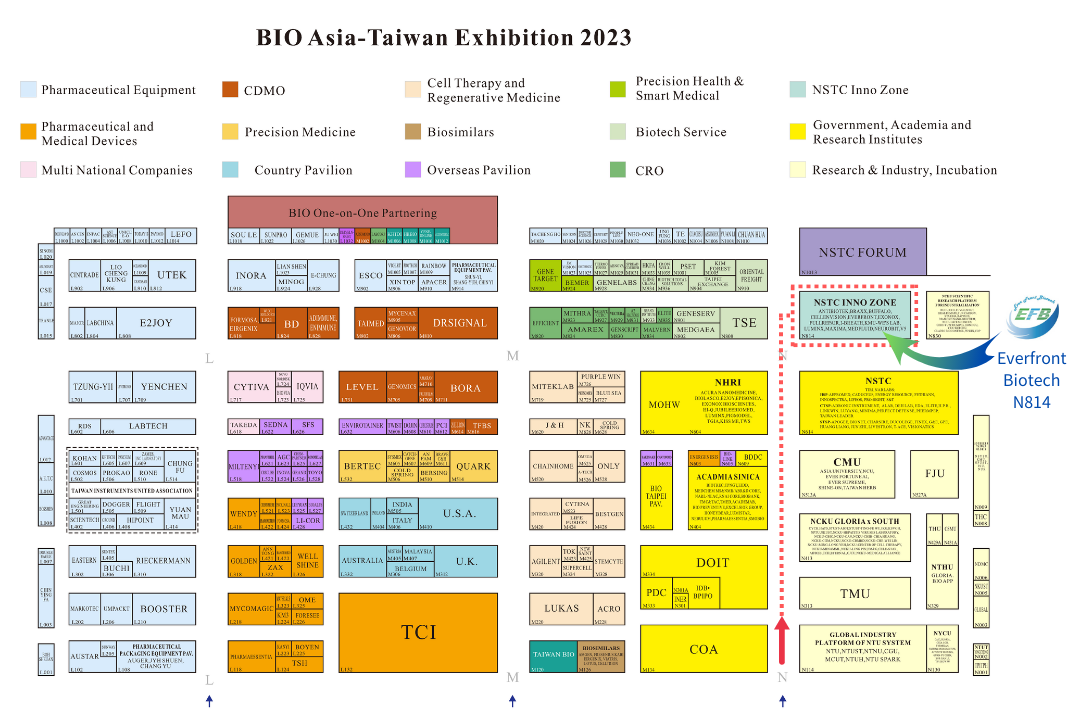 Everfront Biotech's booth for this exhibition is located at N814 on the 4th floor of the NSTC INNO ZONE. We look forward to your visit.
Everfront Biotech Holding Company Limited - Brain Cancer Clinical Programs and Research Pipelines
Product Highlights of Cerebraca® Wafer:
Everfront Biotech's innovative new drug, Cerebraca® Wafer, is a precision medicine sustained-release wafer that revolutionizes the treatment of malignant brain cancer. Through multiple patented novel features, Cerebraca® Wafer has successfully addressed the challenges of treating malignant brain cancer, which is difficult to manage and prone to relapse. Chemotherapy gradually loses its effectiveness against brain cancer cells due to their drug resistance, and the high proportion of cancer stem cells further exacerbates the problem of cancer recurrence and treatment resistance. However, these issues can be addressed by the pharmacological mechanism of action of Cerebraca® Wafer. In addition, malignant brain cancer cells express PD-L1, which renders the immune system unable to kill cancer cells. The successful development of Cerebraca® Wafer has also addressed this issue. In Phase I clinical trials, Cerebraca® Wafer has demonstrated efficacy without any drug-related adverse reactions. The median or average cumulative survival of relapsed malignant brain cancer patients has reached 25-26 months, which is significantly better than existing strategies such as Gliadel® wafer implantation (6.4 months), Temodal capsules (5.8 months), or Avastin injection (9.4 months). Cerebraca® Wafer has been approved by the Taiwan Ministry of Health and Welfare and the Human Research Ethics Committee of Hualien Tzu Chi Hospital for compassionate use trials. For malignant brain cancer patients who cannot undergo surgery and have tumors growing at the cervical spine, implanting Cerebraca® Wafer through a small incision has resulted in tumor shrinkage. In addition, combining Cerebraca® Wafer with cytokine-induced killer cells (CIK) for treatment can achieve a recurrence-free survival period of more than 40 months. With its outstanding clinical results, Everfront Biotech Inc. is actively seeking partners to jointly develop this new drug and help more malignant brain cancer patients.
Introduction to Everfront Biotech Co., Ltd:
Everfront Biotech Inc. was founded in 2010, with a focus on research and development of new drugs, specifically the screening and further development of potential small molecules for clinical study. The company's team is responsible for all aspects of product development, from front-end potential product development to pre-clinical research, chemistry manufacturing and controls (CMC), clinical trial submissions, and clinical trial planning and execution. To date, the Everfront Biotech team has successfully applied three clinical trials: Cerebraca® Wafer (for malignant brain tumors), HK-001 (for amyotrophic lateral sclerosis), and EF-009 (for pancreatic cancer), which have been approved for IND applications in both the United States and Taiwan.
Everfront Biotech's new drug development is in line with national policies, and the Cerebraca® Wafer and HK-001 products were granted the certifications of biotech and new drug in 2016. The company has received the government subsidies in three science and technology projects as of 2022 from the Ministry of Economic Affairs.