Everfront Biotech Inc. Receives "Investor's Choice Award" at the 2023 NBRP Demo Day Investment Matchmaking Competition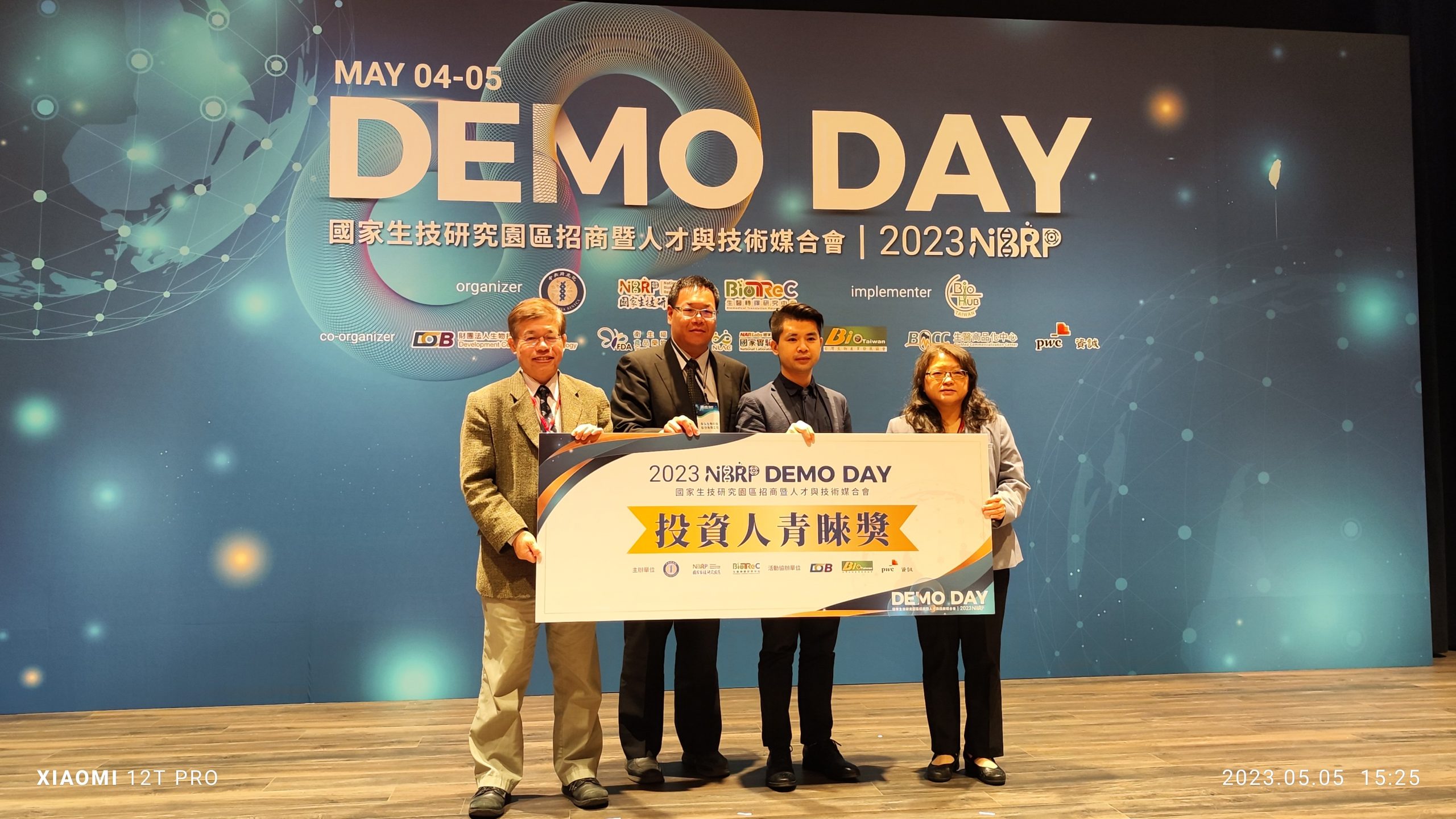 On May 5th, 2023, Everfront Biotech Inc. participated in the investment matchmaking competition at the 2023 National Biotechnology Research Park Demo Day and was recognized with the "Investor's Choice Award". In the picture, from left to right are Dr. Mi-Hua Tao, Research Fellow and CEO, Translational Medicine Division, Biomedical Translation Research Center; Dr. Jen-Wei Liu Director of the Clinical Medicine Research Department; Dr. Jui-Hao Lee, the speaker; and Ms. Li-Ju Wang, Director of Drug Development at the Biomedical Commercialization Center.
The National Biotechnology Research Park (NBRP) held its third annual "Investment and Talent Recruitment Demo Day" on May 4th and 5th, focusing on the dual themes of "Interdisciplinary Industry" and "Resource Linkage". Nearly 50 biotech startups and academic research teams participated, showcasing their innovations to more than 500 domestic and foreign companies, investors, venture capitalists, accelerators, and angel investors. Dr. James C. Liao, Presedient of Academia Sinica, expressed his hope that the park would become a launchpad for Taiwan's biotech startups, leveraging the strengths of industry, academia, and research, combining ICT industry advantages, and connecting resources from international biotech parks to achieve "cross-national, cross-domain, cross-border" collaboration, enriching and perfecting the ecosystem and helping startup teams reach the global market.
Everfront Biotech Inc. participated in the "NBRP Pitch Competition" of the NBRP Demo Day on May 5th for the first time. The competition featured 10 companies, including HoneyBear, Protect, LuminX, Smobio, CellEnvision, Everfront, ExoNxo, DCB Innovative Entrepreneurship Core Team, Institute of Biomedical Sciences, and Genomic Research Center of Academia Sinica. These companies demonstrated cutting-edge technology and business models, competing for the "Potential Newcomer," "Technological Innovation," and "Investor's Choice" awards and seeking support from venture capitalists, investors, and industry experts.
Everfront Biotech's theme for this year's competition was "Revolutionizing Brain Cancer Treatment with Cerebraca® Wafer," which stood out and won the "Investor's Choice Award" at the NBRP Demo Day Pitch Competition. In a limited amount of time, Dr. Lee introduced Everfront Biotech's research and development capabilities, the pharmacological mechanism, precise release characteristics, preliminary results from phase I clinical trials, and compared them with current treatment methods, all of which sparked a high level of interest and enthusiasm among the attending investors. This presentation led to Everfront Biotech Inc. being recognized by the investors and awarded the prize, which demonstrated their strong willingness to invest in Cerebraca® Wafer.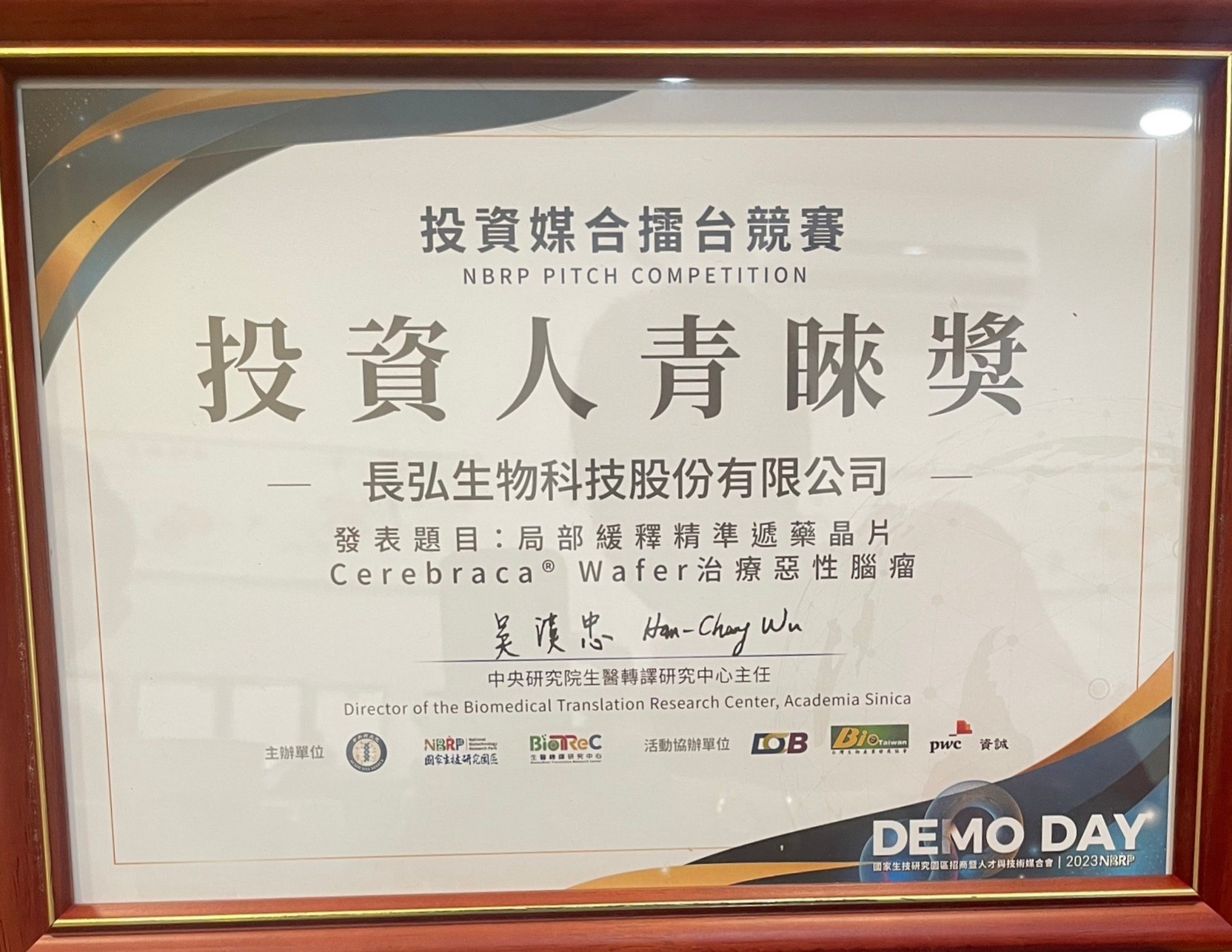 On May 5th, 2023, Everfront Biotech Inc. was recognized with the "Investor's Choice Award" in the NBRP Pitch Competition at the 2023 National Biotechnology Research Park Demo Day. Their entry, "Revolutionizing Brain Cancer Treatment with Cerebraca® Wafer", aims to disrupt traditional brain cancer treatment methods.
Product Highlights of Cerebraca® Wafer:
Everfront Biotech's innovative new drug, Cerebraca® Wafer, is a precision medicine sustained-release wafer that revolutionizes the treatment of malignant brain cancer. Through multiple patented novel features, Cerebraca® Wafer has successfully addressed the challenges of treating malignant brain cancer, which is difficult to manage and prone to relapse. Chemotherapy gradually loses its effectiveness against brain cancer cells due to their drug resistance, and the high proportion of cancer stem cells further exacerbates the problem of cancer recurrence and treatment resistance. However, these issues can be addressed by the pharmacological mechanism of action of Cerebraca® Wafer. In addition, malignant brain cancer cells express PD-L1, which renders the immune system unable to kill cancer cells. The successful development of Cerebraca® Wafer has also addressed this issue. In Phase I clinical trials, Cerebraca® Wafer has demonstrated efficacy without any drug-related adverse reactions. The median or average cumulative survival of relapsed malignant brain cancer patients has reached 25-26 months, which is significantly better than existing strategies such as Gliadel® wafer implantation (6.4 months), Temodal capsules (5.8 months), or Avastin injection (9.4 months). Cerebraca® Wafer has been approved by the Taiwan Ministry of Health and Welfare and the Human Research Ethics Committee of Hualien Tzu Chi Hospital for compassionate use trials. For malignant brain cancer patients who cannot undergo surgery and have tumors growing at the cervical spine, implanting Cerebraca® Wafer through a small incision has resulted in tumor shrinkage. In addition, combining Cerebraca® Wafer with cytokine-induced killer cells (CIK) for treatment can achieve a recurrence-free survival period of more than 40 months. With its outstanding clinical results, Everfront Biotech Inc. is actively seeking partners to jointly develop this new drug and help more malignant brain cancer patients.
Introduction to Everfront Biotech Co., Ltd:
Everfront Biotech Inc. was founded in 2010, with a focus on research and development of new drugs, specifically the screening and further development of potential small molecules for clinical study. The company's team is responsible for all aspects of product development, from front-end potential product development to pre-clinical research, chemistry manufacturing and controls (CMC), clinical trial submissions, and clinical trial planning and execution. To date, the Everfront Biotech team has successfully applied three clinical trials: Cerebraca® Wafer (for malignant brain tumors), HK-001 (for amyotrophic lateral sclerosis), and EF-009 (for pancreatic cancer), which have been approved for IND applications in both the United States and Taiwan.
Everfront Biotech's new drug development is in line with national policies, and the Cerebraca® Wafer and HK-001 products were granted the certifications of biotech and new drug in 2016. The company has received the government subsidies in three science and technology projects as of 2022 from the Ministry of Economic Affairs.